Bahco Pruning Saws
---

Bahco has manufactured saws for more than 130 years. Continuous development work, in close co-operation with professional experts, is a vital ingredient in the quest for developing new and better saws.

All Bahco pruning saws are manufactured in the world's largest handsaw factory in Bollnäs, Sweden.

The range includes comfortable handheld saws as well as pole saws that can be used together with an extension pole. Folding saws with extremely comfortable handles and safety locking, complete the range.

Bahco saw teeth are precision ground from tip to gullet, to ensure efficient and successful sawing.
Saws are protected from rust during transportation as they are covered with a protective layer of environmentally friendly plastic.


4212 Pruning Saw

This pruning saw can be used on all types of wood, including dry or hard wood.

Curved, ground aggressive blade for cutting efficiency. The curved blade stays in the cut.

A comfortable and strong beech handle is attached to the 350mm/14" blade.

Cuts on the pull stroke.
Replacement blades are available.


4128-JT Saw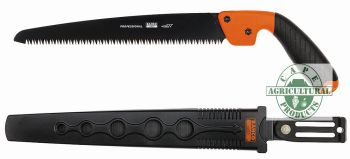 This saw has been designed for wine and fruit growing.

The "JT" tooth type is unset, resulting in a quick and very smooth cut. The blade has a conically ground profile, resulting in less friction and a very clean finish.
The bi-material handle gives a very comfortable grip, and the handle is shaped to give the user some knuckle protection.

Supplied with a holster.

The blade length is 280mm/11" and replacement blades are available.


396 Folding Saw

A folding saw with special patented toothing for a fast cut in hard or dry wood.

Folding pruning saws are ideal for use in vineyards, orchards and landscaping work. When folded, they can be kept in your pocket or vehicle when not is use.

The saw has a two-component plastic handle with a rubberised grip that ensures maximum comfort and cutting efficiency.


A safety lock ensures that the blade can be locked in the open and closed position.

The blade length is 190mm/8" and replacement blades are available.


Laplander Saw

A saw specially designed for wildlife enthusiasts, hikers and campers, the Bahco laplander folding saw is the ideal saw for the outdoors person, being very handy on camping and fishing trips.

The saw is multipurpose and can be used for cutting green or dry wood, plastic, bone etc.
The XT toothing leaves a very clean cut and the blade is coated for rust protection and low friction when cutting.

The 2 component handle ensures a safe, comfortable grip and because the blade folds into the handle it can be carried in a pocket, or in your hiking pack. A leather strap is included [click image above]
A push button safety lock keeps the blade securely locked in the open or closed position.


Watch a short field demo of the Laplander
---

Go to Bahco Tools Main Page
OR
Contact us for more information