Trelliclip - Foliage wire clips
---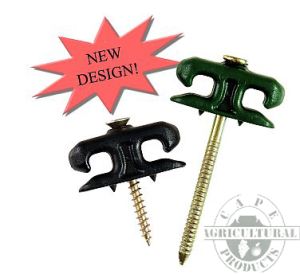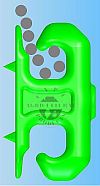 Trelliclip foliage wire clips are the only clip you will ever need to secure your foliage wires to the poles.

We have re-designed and updated the Trelliclip to make it easier to place your foliage wires while working in the vineyard. The new design is able to accomodate wire up to 3mm in diameter without having to be forced into the clip.



Trelliclip can be used for securing Deltex foliage wires to poles.

*** NOTE : When using Trelliclips with the Deltex polyester wire ensure that the clip is manufactured from NYLON for best performance.

Trelliclip offers you the following features and benefits :


Easy to Install, only a hammer needed
Only 1 nail required, in South Africa 63mm ring shank nails are supplied
UV Stabilised, virgin material used for longevity
Trelliclip has "points" to bite into the pole
Plastic does not rust and will therefore not damage the coating on galvanised wire
The green colour is uniform with the rest of the vineyard.
* Other colours can be produced on request.
Because of time being saved, you can utilise your labour force more effectively for other tasks in the vineyards

Trelliclips can be supplied to countries outside of Southern Africa, either with or without nails.

---
Return to our home page

Contact us via e-mail
OR
Go to our Contact us Page to see our other contact details.