Bahco Pole Saws
---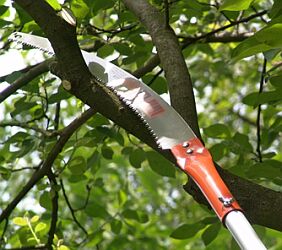 Bahco has manufactured saws for more than 130 years, and all Bahco pruning saws are manufactured in the world's largest handsaw factory in Sweden.

This history, together with continuous development work in conjunction with professional users, ensures that you will be satisfied with the performance of the Bahco saw you choose.



Cape Agricultural Products imports and distributes Bahco pole saws for the South African market.
The models listed below will satisfy a range of users - from the gardener looking for a high quality product, to the landscaper and arborist wanting professional tools that will make their job a pleasure.

The benefits of using pole saws include :
Access to branches that are out of reach.
No need to have a ladder with you.
Easy to use.
Time Saving - Eliminate climbing into trees.
Mobility - The user can move around freely.
385-6T and 386-6T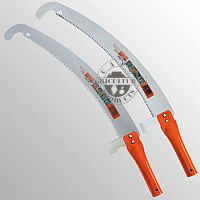 The 385 and 386 Pole saws are ideal for any pruning that has to be done at heights over 3m. They are supplied with a steel tube handle so they can be used with 25mm diameter extention or telescopic poles [See below]

The blade tip on these 2 models is extended into a hook to prevent the blade sliding out of the kerf while you are sawing.
TIP : This hook also comes in handy if you want to pull some branches out of the canopy after they have been cut.

There is a striking knife attached to the blade and handle to cut the bark before sawing through the branch, this will prevents the bark stripping and leaving your tree with an unsightly wound.

The 385 saw has fileable teeth.
The 386 saw has hard point teeth, which stay sharp 4 times longer.


Spare Blades as well as sockets are available for pole saws.


384-6T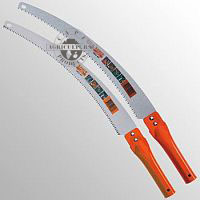 This pole pruning saw is also supplied with a steel tube handle enabling it to be used with 25mm diameter extention or telescopic poles [See below]

This saw does not have the hook on the end so is ideal for getting into dense trees or shrubs at height. Also easy to extract the saw from the plant once the pruning is complete.

Spare blades available.


Click here if you are looking for Bahco Top Pruners

Various functions of a good saw tooth
Bahco pruning saws feature precision ground teeth, which give the saw blade the correct surface for the 3 functions of a good saw tooth :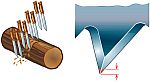 PHASE 1 - The grains are cut off.

Only 0.2mm of the tooth is used for this function, which is done by the sharp, ground tip.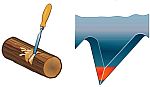 PHASE 2 - The grains are now broken to come loose.

This is done by the sharp, ground edge of the tooth.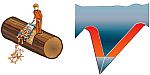 PHASE 3 - The wooden chips are transported out of the kerf.

For this to happen, an open and smooth ground surface is needed in the gullet.


Bahco saw teeth are precision ground from tip to gullet, to carry out these functions succesfully and give you, the user, maximum efficiency while cutting.
Saws are protected from rust during transportation as they are covered with a protective layer of environmentally friendly plastic.


Bahco Telescopic poles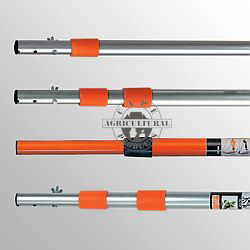 Bahco telescopic extention poles are available for use with the complete range of Bahco top pruners and pole saws and 3 variants are available in South Africa.

* 3 Metre Fibreglass


* 5 Metre Aluminium


* 3 Metre Aluminium


The Fibreglass pole is ideally suited for use where there is a risk of coming into contact with electricity lines, while the aluminium poles offer durability.

All poles are easily extended and locked in place with a simple twist on the sections, supplied with wingnuts for attaching Bahco pole saws.


---