Grafting Tools
---
Cape Agricultural Products supplies grafting tools to be used with our grafting tapes.
Hand Held Grafting Tool



Model G-400K
| | |
| --- | --- |
| | This hand-held, manual grafting tool is very easy to use and can do grafts on plants up to 13mm in diameter. |
The grafter has a blade with an Omega shape in order to get a good join.



*** The new G400K is now supplied with "U" and "V" shaped blades that can be interchanged with the omega blade.

Hold the stem of the stock plant in the grafting tool and squeeze the handle to make the cut. Repeat this step to get a piece of grafting stock from the donor plant.

Take care to ensure the "groove" is cut into the stock plant.

Once you have joined the 2 pieces of plant material wind a piece of budding and grafting tape around the join to ensure a succesful graft.


Click here to view our budding and grafting tapes.


| | |
| --- | --- |
| | The front of the tool has light duty pruning blades that enable the user to cut off any useless branches or leaves. |

Click here to view our budding and grafting knives.
Pro Grafting Tool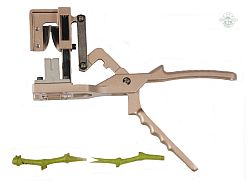 The Pro Grafter Manual Grafting tool is easy to use and needs no special setup.

It is designed to be used on thicker, harder plant material and the blades cut a very clean "V" cut into the wood.

The blades are tempered steel and can handle material between 5 and 20mm in diameter, with a clean slicing action.

The Pro Grafter is being used on Kiwis, Macadamia and other plant material.

A well priced "medium duty" tool for use in commercial nurseries and field grafting.

* Spare blades available *

Infographic on using the tool [opens in new window]
---