Harvesting Grapes
---
When harvesting wine or table grapes you need a scissor that can fulfil the following criteria :
* Sharp * Durable * Comfortable * Functional *

The grape shears and snips presented below fulfil these requirements, each one with different properties.


Cape Agricultural Products Grape Shear

The C.A.P. grape shear is specially made for us after we spent many years looking for a scissor that we could sell with confidence. This shear is solid metal which makes it virtually indestructable. One of the blades has deep serrations, to stop the stem of the grapes sliding out of the jaws while cutting, while the other blade is razor sharp.

Spare springs, as well as nut & bolt sets are available, to ensure you get many years of use from your shear.



Bahco Snips
Already a manufacturer of high quality pruning and cutting tools, BAHCO has developed a range of snips for harvesting grapes.
All the snips are robust, lightweight and comfortable to use over long periods. The handles are made from glass fibre re-inforced plastic and are shaped to fit the contours of the hand. All models incorporate shock absorbing buffers.

The 3 models we recommend are :

P127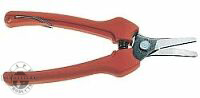 The P127 can be used for harvesting grapes, as well as florist work.
The P127 snip has a short, robust blade with a serrated counterblade to avoid slipping.
Blade opening limited to 20mm.



P123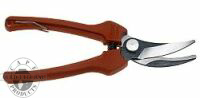 The P123 has a long and fine bypass cutting head for harvesting grapes.
The counter blade has a sap groove so that dirt and sap are wiped away after each cut.
The cutting blade opens to 39mm.



---
To look at other harvesting tools/scissors on our site please click on the following links :

Harvesting Citrus

Harvesting Olives

Harvesting Flowers

Harvesting Avocado Pears

Return to Harvesting Main Page

OR

Return to Home Page