Birdspun Grape Protection
---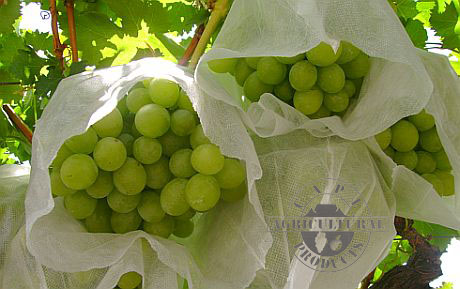 Birdspun grape protection, available from Cape Agricultural Products, is so simple but yet so effective for protecting your table grapes against birds that inflict damage.




Research surveys have shown that Birdspun grape sleeves have reduced damage to table grapes by over 50% in some areas.



The tough, helmet-like sleeves are made from a special lightweight fabric that will not damage your grapes.
The sleeves are quickly and easily attached over the individual bunches using a twistie.
The sleeves are cost effective and can be washed and re-used for up to 5 seasons.
Birdspun is supplied on convenient reels of 500m each and the farmer can cut the sleeves to the required length, depending on cultivar and bunch size.
Click here if you are looking for Bird Protection nets for wine grapes.
---
Return to our home page
OR
To contact us via e-mail click here