Bahco Pruning shears
---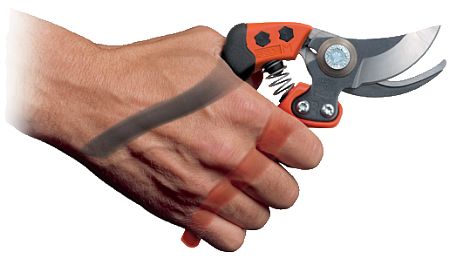 All Bahco secateurs guarantee the user a clean cut with maximum efficiency. All models in the range can be used to cut any type of plant.

In the Bahco range there are different types of secateurs available, for 3 main reasons :




Professional use - The main reason Bahco has various types of pruning shears is because the secateurs are designed for use by people who make between 5000 and 12000 cuts per day. In this type of work environment a small improvement in tool efficiency can save the user a lot of hand strain and fatigue.
Hands - Since users have different size hands, each tool is made in at least 2 sizes.
In addition, there are some models available for left-handed users.
Customer Preference - Another major reason there are various types of Bahco pruning shears is simply customer preference.
Some users are keen to embrace modern technology and materials while others want tools that look and feel like the ones they have always used and are used to.
Some users seek the best secateur that money can buy and there are others that just want a good efficient tool.
Bahco bypass pruning shears are all designed and manufactured with the slicing cut action which gives you, the user, the following benefits :
Less cutting force needed
Less damage to your plants
Less wear = longer tool life
Less broken blades

At present Cape Agricultural Products markets and distributes bypass, anvil and cut & hold shears from the Bahco range, in South Africa.

P1 - Bahco Ergonomic Secateurs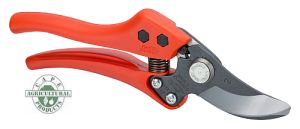 Pruning professionals are at risk of developing aches and pains through repeating the same motion thousands of times a day during the whole pruning season.

Using a pruning shear that reduces the risk of the user experiencing pain in their tendons and nerves.

The P1 shear is a high-tech design pruning shear for the pruning and training of vines and fruit trees.

The P1-20 is 20cm long and ideal for vineyards and smaller hands while the P1-23 is 23cm long with a large blade ideally suited for fruit trees or users with large hands.

The handles made of glass fibre reinforced material are lighter than aluminium and fit particularly well in the hand.
The one-hand locking mechanism with steel button is very easy to operate and ensures the shear remains open while pruning is taking place.

Spare parts are available.

P1-20 - Length : 20cm. Weight : 250g
P1-23 - Length : 23cm. Weight : 255g


Full spare parts listing for Bahco pruning tools sold in South Africa[114Kb]
P126

* EXCELLENT VALUE FOR MONEY *
The P126 pruning shear is a very robust shear, with a traditional, proven design suitable for vineyard, gardening and landscaping applications.
The centre bolt is offset from the centre line of the tool, resulting in the "slicing action" that Bahco pruning tools are famous for.

This increases the area of the blade that is used for cutting.
The high quality blade ensures a clean cut every time.
The locking mechanism is a simple wire clasp at the end of the handle that folds away while the tool is in use.

The blade is NOT replaceable.

P126-22 - Length : 22cm. Weight : 285g
P138

This is an anvil type secateur from Bahco for cutting tough wood.

The blade of the anvil secateur is narrower than the blade on a bypass shear.
Stamped and double beveled blade with a tough aluminium anvil.
The blade of the anvil secateur is narrower than the blade on a bypass shear.

When cutting old and hard wood, the blade must be forced through the wood with greater pressure.
The "anvil" supports the branch and spreads the pressure to reduce damage.
Stamped and pressed steel handles.

P138-22 - Length : 22cm. Weight : 275g


P64-20 cut & hold shear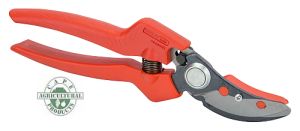 This is a lightweight secateur for picking/harvesting roses and other flowers in professional, cut flower production.

The symmetrically shaped handles, made from glass fibre reinforced polyamide, ensure that the shear is comfortable to use, eliminating fatigue. This together with the soft buffer and spring ensure productivity is maximised.

A carbon steel blade, with wide, forged counter blade ensure a clean and easy cut. The wide counter blade supports the flower stems without squeezing them.

The holder is removable, allowing you to do some light pruning.

Cutting capacity = 12mm.

P64-20 - Length : 20cm. Weight : 174g


---

Go to Bahco Tools Main Page
OR
Contact us for more information