DNA Product Listing RSA - 2016
---
This web page has been set up to make it easier for Nurserymen in South Africa that are on our distribution list for Sizing and Grading labels to identify the products listed on our order form for 2016.

Most of the items that are featured on our order form are displayed on this page to make it easier to choose the items you require.



Budding and Grafting Tapes
Plastrip
Budding Tape is formulated to provide an excellent product and is used extensively around the world with much success.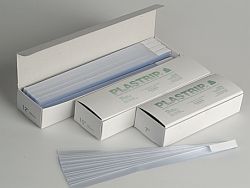 Works equally well for "chip" and "T" budding.
Outstanding elasticity and memory.
Assures a positive seal so no drying out.
Allow maximum expansion for growth.
Promotes rapid callous growth and healing.
Plastrip budding tapes are available in pre-cut strips 12mm wide, or on continuous rolls of varying widths.
The pre-cut strips [12mm wide], which save time and labour, are packed in boxes of 2000 strips in the following lengths :
| | | | | |
| --- | --- | --- | --- | --- |
| 6 Inches 150mm | 7 Inches 175mm | 8 Inches 200mm | 10 Inches 250mm | 12 Inches 300mm |
---

"BUDDY TAPE" is a remarkable tape, specially created for grafting. This extraordinary product is the result of innovative thinking and special processing techniques, and possesses unique functional properties.

Buddy Tape's high performance not only makes the grafting process swift and easy, but also ensures a high success rate.

The unique properties of Buddy Tape include :

ELASTICITY : Buddy Tape can be stretched up to 8 times its original length. This allows small pieces to be used for the application and ensures a tight grip on the bud or graft. Elasticity also means that the tape expands as the plant grows.

SELF-ADHESION : Buddy Tape is not adhesive in its normal form but becomes self-adhesive when stretched. This allows quick application with no need for tying knots.

WATER-PROOFING : The film has a wax content to keep it waterproof, so the bud or graft will not dry out, but air can pass through the permeable tape allowing the bud to breathe. The wax content also means that use of Buddy Tape can eliminate the need for waxing in covered areas.

COMPLETE BUD COVER : Buddy Tape is pierced by the bud as it begins to grow, and because the permeable nature of the material allows the bud to breathe, the bud can be completely covered. This offers protection from infection and insects.

BIODEGRADABILITY : The tape biodegrades naturally in exposure to sunlight, eliminating labour costs necessary to cut away standard tapes after use, providing an environmentally responsible answer to the problem of waste.


* Buddy Tape is available on rolls of 40m in two widths - 18mm and 25mm.


| | |
| --- | --- |
| Perforated | Non-Perforated |

* Buddy Tape biodegrades in 5 to 6 months, eliminating the need for tape removal.

* Some sizes are perforated for easy handling.

*** In order to fully utilise the unique characteristics of buddy tape, we recommend that it is stretched gradually as it is applied. Although there is a natural tendency to stretch the film to full length and then simply wrap it around, this can cause the tape to become stringy which means the tape cuts into growing plants.


Budclips - Aluminium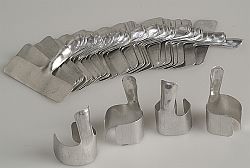 Aluminium bud clips will ensure the straight initial growth of all the young trees in your nursery, eliminating the crook at the bottom of your tree.
Packed 500 bud clips per carton.
---
Budding Knives
Click on the images for a larger picture if required.
39010
Standard budding and grafting knife.
39020
Budding and Grafting knife widely used for grafting grapevines and for roses.
Has a straight blade with slightly sharpened barklifter on the top edge..
39040
Standard pattern budding knife with a barklifter on the top edge of the blade.
Features a short thumb rest on the blade to avoid cut fingers..



39050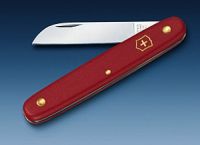 General purpose grafting and budding knife. Used extensively in South Africa for grapevines.
Standard straight edge blade.
Our most popular knife.
39060

Standard curved blade knife.


39110
All purpose budding knife with same blade shape as the 39110 knife above, but has an additional brass bark lifter.
26901 / 26910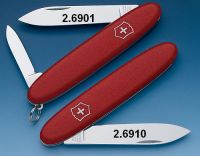 All purpose budding knives with smaller blades.
The handle is 85mm long whereas the above knives have handles of 100mm long.
The 26910 has one single, large blade while the 26901 has an additional small blade as well as a keyring.
---
Rooting Hormones
Cape Agricultural Products
supplies and distributes rooting hormones in powder and liquid form to the horticultural industry for the propagation of plants in nurseries.
These rooting homrones are used extensively for the propagation of plants for ornamental use in gardens and landscaping, as well as commercially for the propagation of fruit trees.
IBA Powder
Cape Agricultural Products
sells pure IBA
[4-Indole-3-Butyric Acid]
in powder form that can be diluted and made up by the user as per their requirements.
Dynaroot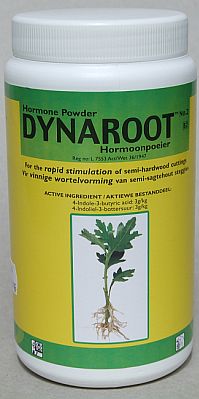 Dynaroot is available in 3 concentrations :
# 1 - for softwood cuttings
# 2 - for semi-hardwood cuttings
# 3 - for hardwood cuttings
All 3 concentrations available in 600g tubs or 3Kg buckets.

Method : Moisten the lower tip of the cutting and dip this into the powder. shake off the excess powder and plant in the chosen growing medium.
Once the plant cutting is dipped in the powder the auxin is absorbed, resulting in the stimulation of root formation.


Active Ingredient :
4-Indole-3-Butyric Acid [IBA]

Dip n Root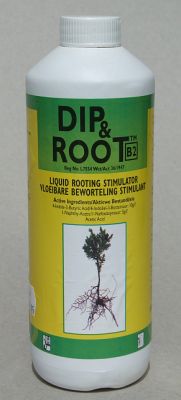 Registration # : L7554Dip & Root
is a liquid rooting stimulator and is available in 500ml bottles.
Dip & Root is diluted with water to the required strength as follows :
Mix 1 : 20 for softwood cuttings
Mix 1 : 10 for semi-hardwood cuttings
Mix 1 : 5 for hardwood cuttings

Active Ingredients :
4-Indole-3-Butyric Acid [IBA] : 10g / Lt
1-Naphty-Acetic Acid : 5g / Lt.


---
Labels and Markers
Large T-Marker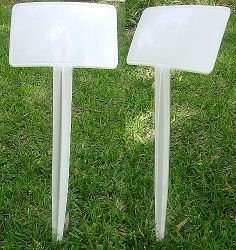 This marker has a header board that is angled backwards to make it easier to view the text on the board without having to bend down.
We have also re-designed the spike, making it stronger and also strengthening the point where it attaches to the header board, as can be seen
here.
Use for marking nursery and orchard rows, individual plants and trees and also for marking demarcated stands at open air events.
The dimensions of this T-Marker are as follows :

* Top Plate / Headerboard = 130 x 85mm
* Stake = 340mm
* Top of headerboard to point of stake = 430mm.


Pot Labels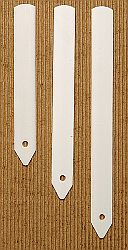 These pot labels are a recent addition to our range of marking solutions and are ideal for marking seed beds, plant pots and seedling trays.
Ideal for use in growing tunnels as the plastic is not affected by moisture.
Easy and quick to use, write the required information on the pot labels with a marking pen or pencil and press the sharpened end into the soil.
The labels are 1,5mm thick x 15mm wide and are available in 3 different lengths :
100mm / 4 inches
125mm / 5 inches
150mm / 6 inches
Self-Tie Labels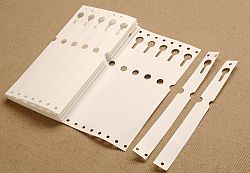 These labels are used for identifying and marking plants.
Made from hard-wearing, durable, spun bonded polyethylene.
Generally supplied in plain white but various colours are available on request. Labels can be pre-printed in up to 3 colours per side for personalisation.
Very light, flexible and tear-resistant.
Water and frost resistant.
Easy to
attach
, take around the plant and put tag through the pre-punched "keyhole"
Surface suitable for computer printer, pen, marking pens or pencil.
* Supplied in fanfold form in boxes of 2500
* Size - 180mm long x 19mm wide
OR
180mm long x 21mm wide.
Plastic Self ties also available :
* Supplied loose in boxes of 1000
* Size - 155mm x 15mm
* Colours available : White, Blue, Yellow, Light Green, Dark Green, Red, Pink, Purple, Orange, Brown, Grey.


---
If you have queries about the order process and the order form, please click here