Bahco snips
---
Already a manufacturer of high quality pruning and cutting tools, Bahco has developed a new generation of snips for harvesting grapes.

All the snips are robust, lightweight and comfortable to use over long periods.
The handles, made from glass fibre reinforced plastic, are shaped to fit the contours of the hand.

The snips have been extensively tested in their respective applications.
The 3 models we recommend are :
P127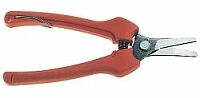 The P127 can be used for harvesting grapes, as well as florist work.
The P127 snip has a short, robust blade with a serrated counterblade to avoid slipping.
Blade opening limited to 20mm.




P128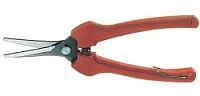 The P128 can be used for harvesting, as well as thinning out fruit for better growth.
The P128 snip has a long and fine cutting head with an opening of 34mm.




P123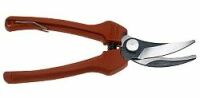 The P123 has a long and fine bypass cutting head for harvesting grapes.
The counter blade has a sap groove so that dirt and sap are wiped away after each cut.
The cutting blade opens to 39mm.



The blades of all models are made from hardened, stamped steel to give a clean, efficient cut.

The ergonomic handles incorporate shock absorbing rubber buffers and the spring and buffer are replaceable.


---

Go to Bahco Tools Main Page
OR
Contact us for more information